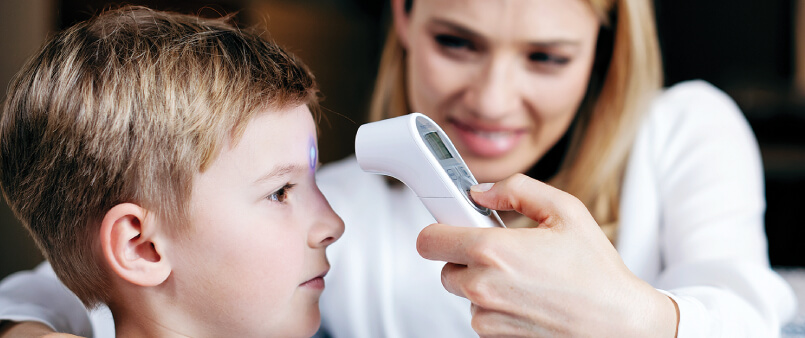 Digital Infrared Thermometers are widely used across various facilities to determine surface/human temperature with precise measurements. Green IP Services Pvt. Ltd. offers the best in class digital IR thermometers in a wide range of applications. Contact us now to know more about our IR Thermometer solutions.
What is Digital IR Thermometer?
A Digital infrared thermometer is a temperature-sensing device that uses electromagnetic radiation to observe the readings of non-contact surface temperature. From measuring the temperature of human, your coffee to that of a running engine, A Digital IR thermometer can be used for innumerable purposes.
Be it a Defence, private or a Government organization, a Digital IR Thermometer can be used everywhere to read the temperature of a particular spot on a surface of the wall, an automobile, or a food item.
Application and working of Digital IR Thermometer:
A Digital infrared thermometer has an inbuilt laser that helps to aim the thermometer at a specific spot or area to measure the temperature of that area. The laser reads the temperature coming off of the area and shows the temperature in units on this device. It can be extremely useful in cases where testing the temperature of areas through physical touch can be extremely hazardous and infectious, such as a patient, vehicle's engine, or cookware, or places where there is a large crowd of people where it's impossible to contact everyone at once.
In the Military or defense system, this device is used by security personnel in typical applications which include perimeter monitoring and equipment or enclosed space hot or cold spot monitoring for safety and efficiency maintenance purposes.
Benefits of Digital IR Thermometer:
Measurements of moving parts can also be taken via this device

Digital IR thermometers operate well for a variety of applications

Advanced measurement functionality is available in this device

The Digital IR thermometer is compact and easy to use. 

It also keep a record of the recorded temperature of human/machines. 
A pioneer in the field of Digital IR thermometers, Green IP Services Pvt. Ltd. offers an exquisite range of thermometers that are best in quality.