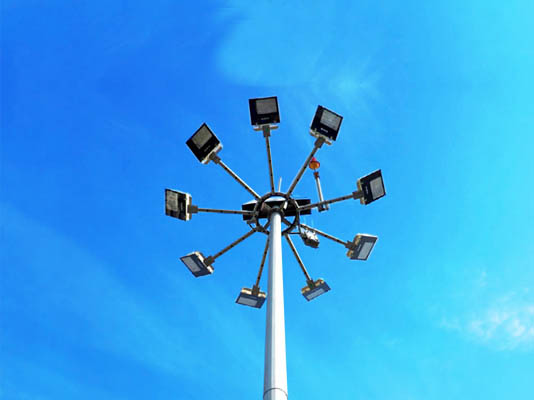 These are basically site light fixture, generally used to create uniform illumination across a vast area from a great height mounting .These fixtures are mounted on poles of 40 feet to 150 feet height. There are with 4 to 16 fixtures that are being mounted on each pole.
These are the most heavy duty lighting systems that is having the strength and resistance that is required to survive any weather condition. Generally here the high-pressure sodium, mercury vapor, metal halide and LED is been used, where some units have the lights surrounded by a circular shield that prevents light pollution.
The high mast lights are being controlled with a motorized mechanism which makes their installation and maintenance process easier. It is designed to provide an extended lighting coverage where the shadows are minimized. Mounting heights allow far reaching illumination using high power luminaries so can be located away from high activity spaces. It can be clubbed with high mounting surveillance cameras and cellular antennas with the lighting poles.
A high mast lighting system consists of three components
Mast Structure

Headframe

Luminaries
The headframe is of two types the fixed and mobile types. In case of a mobile headframe, the mast structure uses winch mechanism, where the headframe can be lowered to ground level for maintaining the luminaries. It comes with a latching mechanism in order to hold the entire load of the headframe and luminaries.
In case of fixed headframe systems, the mast carries either rungs/ladders or a motorized lift system for maintenance purpose. With the use of the mobile access system has the mechanism of gliding on two rails fixed to the mast, or a power lift consisting of a cage basically, an elevator winch system and a safety braking system.
The headframe consists of the cluster of mounted luminaries .These comes in different varieties of forms. Here the fixed types of equipment include crossarms, rings, and frames. The crossarms can be of U-bolted straight crossarms and curved crossarms that are designed for lightweight lighting assembly's .These are specifically for the limited number of luminaires, where the rings and frames host more luminaries. The maintenance platform is generally fixed and is placed closed to the crossarms, rings or frames in order to enable smooth servicing. This platform can also be integrated with rings or frames and can act as a head frame assembly.
A tilted frame with a central shaft is designed to hold multiple numbers of luminaries. The mobile headframe is basically a ring structure, suspended by stainless steel cables that pass downwardly through pulleys on top of the mast towards a winch that is situated in the base of the mast.
High tensile steel plates with hot dip galvanized after fabrication are required for creating masts. These masts come in round-conical or polygonal cross section is continuously tapered. It comes in sections to fit into one another in order to achieve a desired height. It may come with a hinge to bring the headframe down for human access for the ease of maintenance. The hinged mast has two components a fixed base and a hingeable upper part fixed at either mid-level or at the bottom. It has a door which is weather and vandal resistant situated at the base of the mast that provides access to the base compartment equipments, such as winch, motor and cable. To secure the mast to the foundation a flange plate is being welded to the base of the mast, by anchor bolts which are fixed in the foundation block.
Application:
Ports

Parking lots

 Sports facilities

Railway yards

 Highways

Airport aprons

Freight terminals

Military bases

Border areas

Industrial facilities