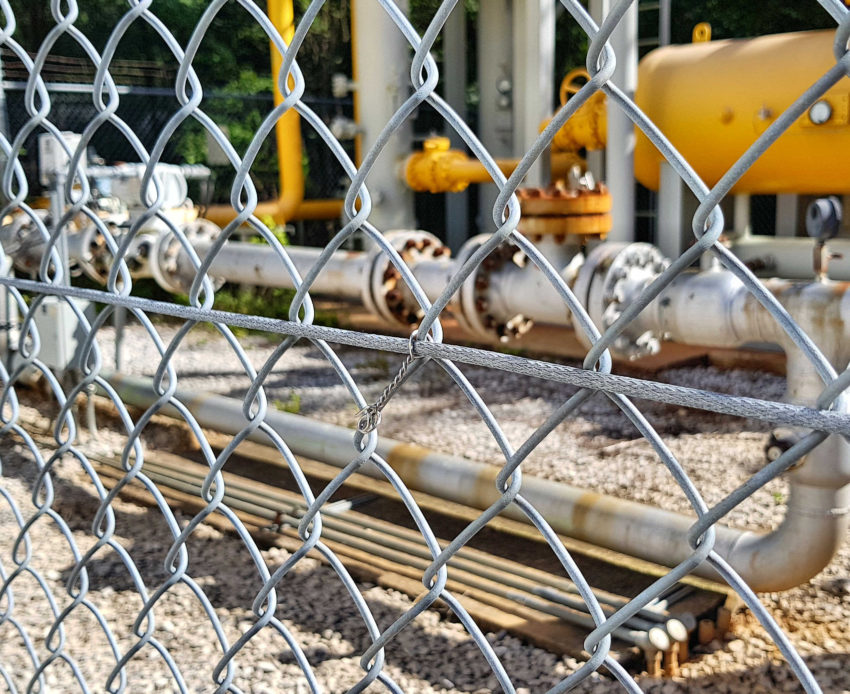 The easiest and most reliable fence sensor cable you ever installed!
Plug and Deploy – Ready for installation affordable kits.
3 Layers of False Alarm Filtration – Extreme low false alarm rate.
Protects fences up 10ft/3m with a single run of cable.
No training or special tools needed. Comes with installation manual.
No calibration – The system self-calibrates.
Maintenance free – 2 years warranty on the sensor cable.
22 Levels of sensitivity per zone easily adjusted with dip switches.
Dry contact relay outputs (NO or NC), can be connected to any alarm system/DVR.

Ideal for installation on chain link fences or concertina coils.

Optional: Weather Station, Stainless steel twist ties, Gate connector.
Detect and Stop Intruders at Your Fence Line
The Vibration Sensor Intrusion System is a sensor cable that is attached to the fence to detect any cutting, climbing, lifting or jumping off the fence. A single run of the cable in the middle of the fence will detection the whole height of the fence up to 10ft against any intrusion attempt.
Each processor can monitor up to 2 zones with 2 separate relay output per zone, the zones are sold pre-cut in 250'/500'/1000′ (75m/152m/305m).
The system designed to connect to any alarm system and is able to retrofit to old or new burglar alarms/DVR/NVR/SCADA systems.
Fully wrapped by stainless steel braid the Vibration Sensor Intrusion System is Ideal for installation on wire fences, razor wires and concertina coil.
How Do the Vibration Sensor Intrusion System Detects Intruders and not Wind?
The system utilizes 3 layers of false alarm filtration. 
1. The Algorithm of detection is designed to detect only sharp frequencies vibrations associated with intrusion attempts while filtering the long frequencies from weather 
2. 22 levels of sensitivity easily adjusted with dip switches 
3. Weather station to avoid false alarms caused by weather condition.
Get Better Perimeter Protection for
Sites Such as those:
Commercial and Industrial areas.

Water, Electrical and Utility substations.

Car, RV, Boat or Equipment storage areas.

Solar farms and Photovoltaic power plants.

Self Storage facilities.

Radio, Cellular, Communication antennas.

Any fenced location
Sensor Layout of the Fence Alarm System Is:
1. Sensor Cable is pre-cut in 250ft/75m, 500ft/152m and 1000ft/305m
2. Each Processor (Analyzer) can monitor up to 2 zones (spools)
3. Maximum length per Processor is 2000ft/600m of sensor cable, 2 zones of 1000ft/305m
4. Each kit also includes: A processor in a weatherproof enclosure and sensor cable in chosen length
5. To cover larger perimeters there is an option to combine as many kits as needed.
Weather Station
The unique VX-25 weather compensation unit allows the Vibration Sensor Intrusion System to measure wind/rain/snow in real time and filter false alarms caused by weather.