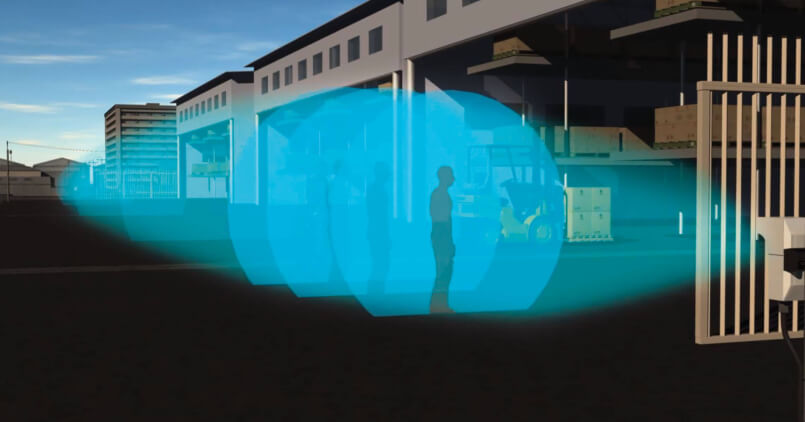 Being a leading source of innovative security solutions, Royal APS Private Limited offers an advanced Microwave Intrusion Detection System that can effectively and efficiently detect any kind of suspected motion in its vicinity. Get in touch with us to learn more about it and fortify your perimeter with the most powerful security systems by Royal APS. 
What is a Microwave Intrusion Detection System?
Often considered to be the most impactful intrusion detection system, a Microwave motion sensor is often found in high-security premises. They are usually installed over the fences and can effortlessly detect an intruder's motion in the vicinity.
A Microwave Intrusion System offers a semi-conical detection area. It can either be installed as a single detection system or can be easily integrated into a pre-existing security system. While it can be used in different types of premises, its principle application can be found in regions with long, open fields. As well, Microwave Intrusion Detection Systems, clubbed with a powerful alarm system, can immensely help patrolling forces and vicinity security guards.
Types & Working of Microwave Intrusion Detection Systems
To understand the working principle of Microwave Intrusion Detection Systems, let's start with understanding their two major types. The most common microwave detection systems are of either of the two categories: Mono-static systems or Bi-static systems.
As the name already suggests, a mono-static microwave intrusion detection system only uses a single radar unit and is ideally suited for detections in shorter ranges. An efficient and innovative approach of using a mono-static microwave system involves placing it at the top of a facility facing downward. This way, it covers the maximum conical area and detects intrusions precisely.
On the other hand, the bi-static microwave intrusion detection systems comprises two separate units, one for transmission and another for detection. Every time a steady connection of microwaves is disrupted between the two units, it triggers the alarm systems about the intrusion. Since microwaves cannot be seen through naked eyes, this system partly works like an invisible fence system with similar functionality but different mechanisms. 
The Microwave detection system consists of a transmitter and receiver unit. The transmitter generates a microwave beam in the band creating a unique invisible and hyper sensitive 3D virtual zone. Any intruder entering in this virtual zone will be detected and the system will trigger an alarm. This system can also intercept the intruder walking, running, crawling through the protected virtual zones.
The system will detect the body above 35 Kg (80 lb) and it is unaffected by birds and small animal.
Applications of Microwave intrusion detection system:
 

This system is feasible for High Security Residences

High Security Prisons 

Airports

Ammunition Depots 

Military Areas

Govt Buildings 

Public areas for security