A video wall is a unique multi-screen setup wherein multiple computer screens, projectors or television sets are tied together contiguously to form a single logical screen. Since its inception, it has been playing an important role in applications such as defense and surveillance, traffic management etc. Green IP Services Pvt. Ltd. brings you smart and superior video wall solutions. Contact us now to gain a clear insight into our video wall solutions.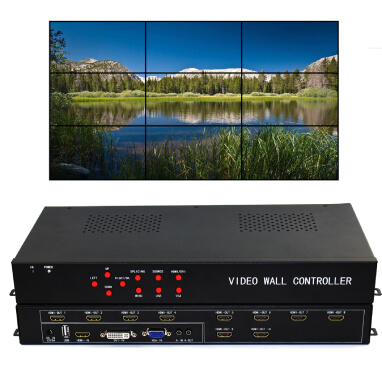 A Video Wall is a bank of screens that are assembled to form a single and large display surface. While the surface is certainly the clearest part of a video wall system, it's actually a complex solution. A video wall system can be structured using LED or LCD computer monitors, television sets, and video projectors as well. 
Although the video wall systems are made for numerous purposes, the primary reason for creating a life-sized display is that with it, you can experience a single logical surface that is larger, brighter, and has intrinsic redundancy unlike any other method of image/video display. And today's modern Video Wall systems ensure precise representation of information in the form of graphics, images, and videos.
Applications of Video Wall System:
Since video wall systems enable information created on a user monitor to appear on a distant large screen, this technology is highly useful in various organizations as well as defense and military. In the latter, a video wall system is used when training, planning, data sharing, and strategizing, displaying information to a team in a channeled way is very critical. Video Wall not only displays the information in a precise way but also makes the overall presentation more engaging and effective.
Applications:
Civil defense training centers

Missile launching facilities

Aerospace monitoring headquarters

Intelligence operations

Flight simulation facilities

Weather recording stations

Briefing centers

Traffic management systems

Security and Surveillance system 

Border patrol stations, etc.