Green IP Services Pvt. Ltd. offers innovative Visitor Management Systems in a wide range of industries. In our experience as a smart solutions provider, we have offered top-notch visitor management solutions that have enabled our clients as well as businesses in managing their visitors efficiently with all the safety protocols. Get full insights to our VM solutions by contacting us today!
What is Visitor Management?
Visitor Management refers to the process of monitoring and recording information about visitors. By collecting the information, a visitor management system records the usage of the facilities by specific visitors and provides the information on visitor's whereabouts. 
Visitor Management System is important as it performs a significant task of tracking who is on your premises. In simple words, it gives you the utmost control over the guests/visitor accessing your services, an imperative element to keeping those services safe and secure
How Does the Visitor Management System Work?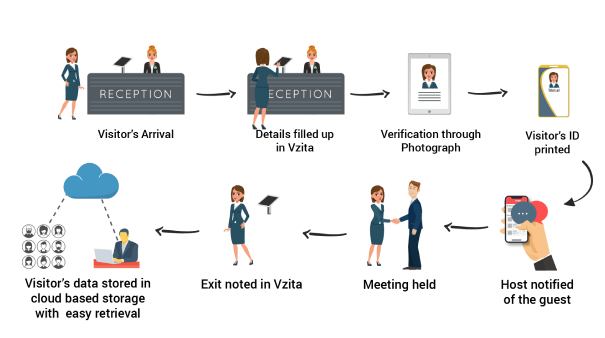 Visitor Management System documents and collects all the information about a visitor's whereabouts in the facility or the premises. Not only does it help people and businesses keep a track of the people that visit their location, but it also makes the visitor sign-in process more accurate, efficient, and consistent. Moreover, it increases the building security and protects facilities and employees.  It helps the security department to monitor the persons profile and past history before they enter the premises. 
Due to several threats associated with visitors in the Defence organization, Govt departments and industries, security personnel have turned their attention to building best in class systems that assist the Security needs of the organization.
Advantages of Visitor Management System:
It enhances the building's security and employee safety

 It increases the efficiency

Improves visibility and accountability 

 All the visitors can be pre-registered before entering the premises

It avoids any kind of mishappening
Integration with access control system and CCTV video surveillance system:
Highly advanced visitor management systems are integrated with the access control system and video surveillance system, these are highly used to track the visitor's movement inside the premises. When visitor is only allowed to visit a specific area and when the visitor diverts the movement then the alarm is triggered in the security system regarding the same. Proper monitoring and surveillance is done through long range readers and cctv cameras and in case of diversion of visitor from path, security personal will be notified. 
Managing visitors' access can be both costly as well as a time-consuming process. We provide all-inclusive visitor management solutions to security-conscious organizations at the very highest to the defense industry, government organizations and industries. All our systems are designed and engineered to provide the best in class visitor management services to the defense industry. Contact us now and get the best in class visitor management system.
Application:
Large scale/small scale private companies 

Large scale/small scale Industry

Govt departments 

Defence departments etc