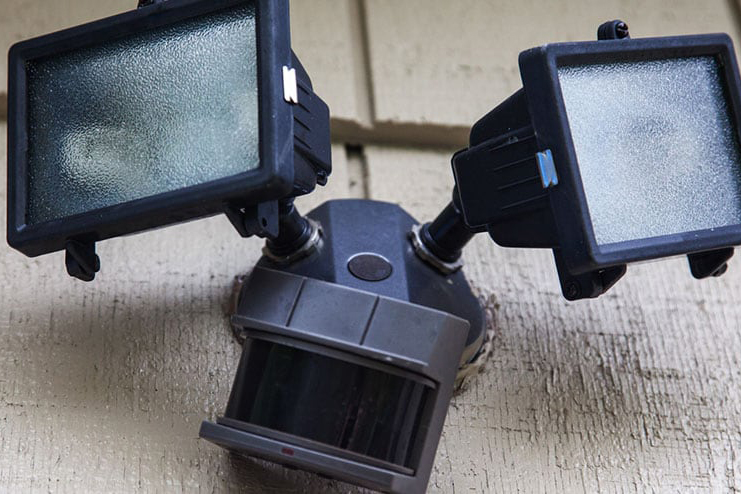 These are crucial elements in securing one's premise. Security lights are intended to deter or prevent intrusion. It can also be used to increase visibility of the dark corners or areas in the premises to create a psychological deterrent against intrusion.
Different types of outside security lighting:
Continuous lighting:
This is one of the most common types of outdoor security lighting system.  The glare lighting method of this lighting technique is being used in prisons or other correctional institutes.  It creates a light barrier or lighting boundaries in the premise where it is being installed. Floodlights are being used in this way because the light beam produces a lot of glare. In this method the lighting units can be directed at the object rather than the surroundings.
Stand-by lighting:
It generally consists of the continuous systems with the facility to use it as stand-by. These can be used in either automatically or manually. Stand-by system is useful when one wants to light a particular portion of a premise.
Moveable lighting:
This is basically manually operated and generally made of moveable components or flood lights located in specific places. This is widely used at construction sites.
Emergency lighting:
This can be used as above three lightning system. Generally, it is being used in emergencies such as power failure. It is based on alternate power source, such as gas powered generator or batteries. It can be considered as a back-up lighting source, such as high intensity discharge lamps.
Timed Security Lighting
This is being used for deterring intruders .The length of the night varies throughout the year and this light can adjust the hours of operation accordingly.
Floodlights
They are very strong and bright.
High-Intensity Discharge (HID) Security Lights
This is good for vast area and is useful for commercial use.
Exterior Soffit Lights
This lightning system the lights are overhang and are being installed at the front surface. It removes shadows and helps to prevent intruders.
Outdoor Coach Lights
These are basically an accessorized lightning option to the premises driveways and walkways.
Motion-activated Lights
Very effective for intrusion detection. As it can catch intruders off guard.
They are only turned on if they can sense motion thus reduces energy-consumption.
Different types of lights:
Incandescent:
These are of low cost and provide good rendition.  But they have a very short life approax 500-10,000 hours and less efficient compared to others.  In this light the lumen per watt is 17-23.
Mercury vapor:
It is purplish-white in color that is being caused by an electric current that passes through a tube of conducting and luminous gas.  This is considerably more efficient. It is being used extensively outdoors. It has a long life approx 24,000 plus hours and is being used for long burning hours.  Here the lumen per watt is 45-63.
Metal halide:
It has same physical appearance like mercury vapor, but has a higher luminous and color rendition. The rated life hours are comparatively short.  Here the lumen per watt is 80-100.
Fluorescent:
It has great color rendition and high efficiency approval 67-83 LPW and long life such as 12,0000-20,000 hours.  It radiates very wide horizontal light beam.  These are temperature sensitive lights. It's not suitable for lighting over long distances and are used commonly indoors.
High-pressure sodium vapor:
This is basically used for exterior lighting. It works on the same principal as mercury vapor but the color of the light is golden-white to light pink color.  It has high lumen efficiency approax 100-140 LPW but not so good color rendition.  The lamp life here is up to 24,000 hours. 
Low-pressure sodium vapor:
It provides a higher lumen efficiency approax 135-180 LPW.  The color of the light is golden-yellow or amber. It provides a good visual ability.  However, its narrow bandwidth is responsible for very poor color rendition.  The average lamp life here is 18,000 hours. 
Application:
Defense area

Business house

Boarder area