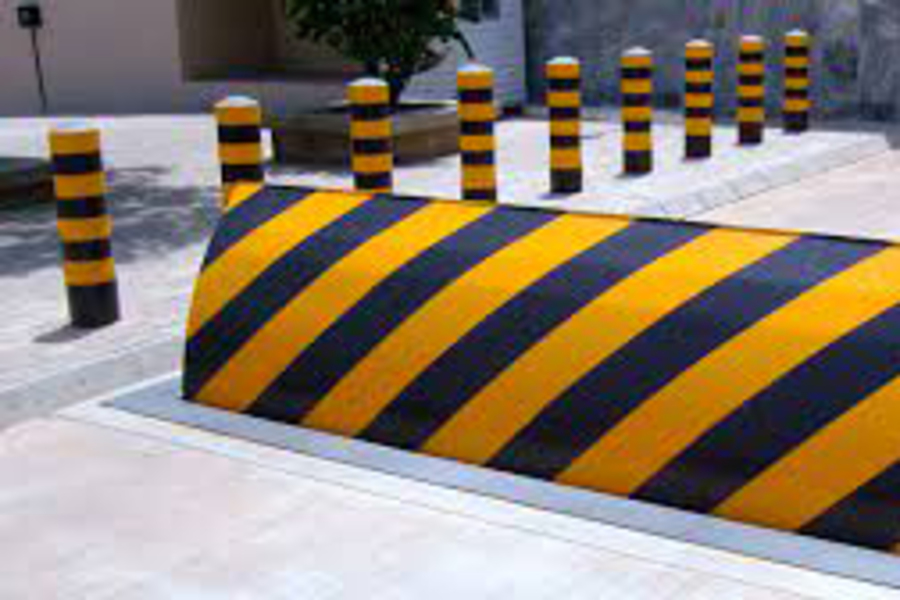 These are one kind of security systems used to prevent damages and controls security at entry and exit places. These are also used to protect against terrorism.
It is an electro hydraulically operated instrument, where the rising step obstruction that rises above the ground level. It gives a valid input signal to prevent unauthorized intrusions at high security areas. These are designed in full core steel profile with TESCON 4S coating that ensures maximum safety against corrosion.
It is being operated by high speed hydraulic cylinders. It consists of a power pack of an electric motor – pump assembly and an accumulator/handle that is being used for manual operation for power failure. It is being installed up to a 20 meters of distance  from the road barrier within a weather proof  lockable steel casing ,that is being placed on a concrete base. The moving time for the blocker up & down is from 2 to 6 seconds.
It can be used with cork or arm barriers, to ensure maximum security .It issues warning signal when it goes up and down, and it becomes stronger in case of emergency. For the automated ones, it is automatically being raised up once the vehicle has passed.
It is compatible with all access control systems. It can be controlled manually. These are designed according to the length of the road. These are very durable in structure. The road blockers for the security height have the lift height options of 353mm & 533mm, and the width option up to 5m.
It is designed for continuous use. A 400V power being supplied from three phase as standard power supply.
They are requiring the excavation works for installation. If it's activated, the blocking segment will get extended and it blocks the entry. The height of the blocking segment is 650 mm. But for dynamic road blockers, the blocking segment can be lifted and can reach up to 850 mm of blocking height. It has some eye-catching warning color and warning lights embedded at the blocking segment so that it can clearly be visible to approaching vehicles. Road blockers are designed to redirect the vehicles to avoid the roadside hazards.
Different types of Road Blocker:
There are mainly two type's tier killers and industrial gates. Apart from this following are different types of road blockers
Titan:
These are hydraulic road blockers that are being installed underground. The width of the blocking segment is in between 1 to 6 meters. It is made of corrosion free high-quality steel. Here the standard load is 11.5 tons.
Shield:
It is also having a width of 1 to 6 meters, but it has low foundation it is one of the most popular road blocker. The height of the blocking segment is 400 mm above the surface but it can grow up to 1200 mm. The operation time can be 1.5 seconds.
Protector:
It is also a hydraulic road blocker .It's width is in between 1 – 4 mtrs. It is Available in different configurations. But the classic version can handle maximum load of 8 tons. These are basically industrial gates.
Monoblock:
It is basically a thin, uniform post that is being mounted underground. These are intended for sidewalks. A standard monoblock has a K8 security level. These are capable of stopping a truck with a speed of 80 km / h. Here the standard maximum load is 7.5 tones.
Flatblock:
This is designed for places of shallow immersion.
Guard:
These are electromechanical Industrial gate road blockers.
Application:
Military areas

Public institutions

Organizations

Consulates

Banks

Factories

Workplaces

Embassies

Air force static

Atomic power station