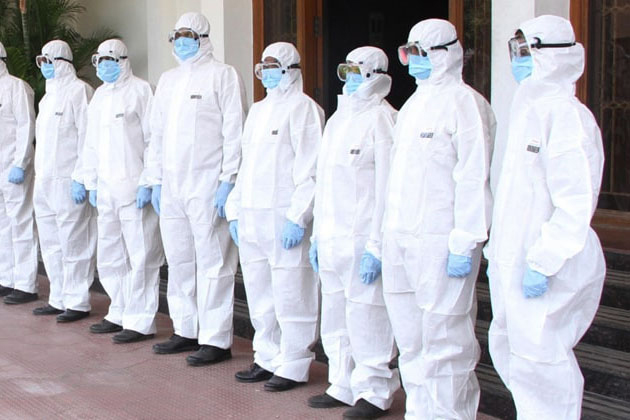 Personal Protective Equipment (PPE) kit is a specialized garment worn by an individual or medical staff for protection against infectious materials and surroundings. Since its inception, it has played an integral role in safeguarding medical staff and employees from radiations, chemicals, dangerous viruses and bacteria's. Green IP Services Pvt. Ltd. thrives and strives to deliver a comfy, safe, and well-designed PPE kit that offers your workers the most effective protection available. 
What is PPE (Personal Protective Equipment) Kit?
The Personal Protective Equipment kit consists of garments placed to protect the health care workers, employees, or any other people to get infected. These garments are designed and developed to reduce exposure to any environmental viruses, bacteria's, chemicals, radiation etc. 
PPE kits are widely used by hospitals, the military, government, chemical, pharmaceutical, and manufacturing companies to protect the workforce and reduce the risk of contamination and infection.
What are the components of PPE Kit?
Gloves:Gloves are designed to protect employees or workers when directly handling potentially infectious patients. 
Gowns:Gowns protect employees from the contamination of clothing with potentially infectious surfaces of materials.
Shoe and Head Covers:Shoe and headcovers provide a fence against possible exposure within an infectious environment.
Masks and Respirators:Masks protect your nose and mouth from bespattered body fluids, and respirators distill the air before you inhale it.
Other Face and Eye Protection:Goggles and face shields are very important components of PPE Kit.  Goggles safeguard your eyes from splatters whereas a face protection mask or faceshield provides splatter protection to facial skin, eyes, nose, and mouth. 
Today, when people need to take extreme care of their health due to the fear of Coronavirus, they are avoiding stepping out. Nevertheless, when it is too important for them to go out of their home, some basic, but very crucial precautions are needed. A PPE kit is one such safety essential that not only minimizes the risk of your body contact with the virus by protecting all parts of your body, but also protects you from any other kind of contamination.
Applications:
Improved communication 

Hospitals 

Airports 

Industries

Govt buildings 

Biohazardous Places

Chemical factories etc. 
Green IP Services Pvt. Ltd. understands your need and provides top-quality protection equipment and kits at very reasonable prices in the market. Contact us now to know more about our healthcare products.