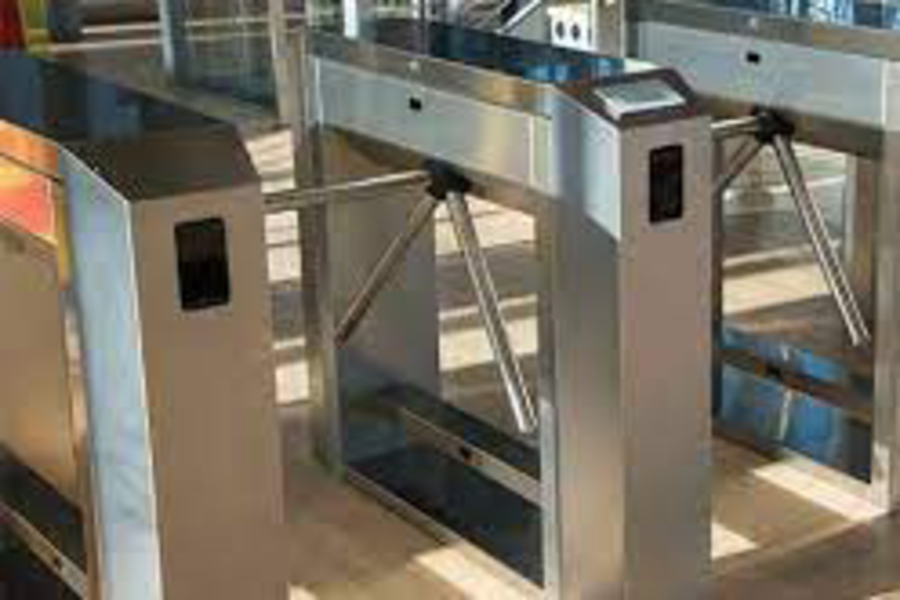 It is a device that controls the entrance, especially in the paid areas. It is basically a post consists of a multiple short poles sticking out from it. Every time anyone walks through the entrance it has to be pushed and forms a gate that allows a person to pass at a time. It can also restrict passage.
It consists of revolving horizontal arms fixed to a vertical pole and can only rotate in one direction and not in the other.
Turnstile gates are the best entrance control system, it can by provide an accurate count of inflow traffic. It helps in overall security by efficiently preventing intrusion.
It can start working in 3 seconds.
When the card reader reads a valid access card, the device will make a sound and the information read from the card is judged and checked for authentication, and the signal is send to the main control board.
The main control board receives the card information, and checking the authentication it sends out control signals to the motor to revolve the horizontal arms. The motor rotation angle is being controlled, and the gate opens for the person.
The core gear has high resistance and high toughness on its surface. It has strong mechanical properties. The spindle has HB220-280°tempering treatment that increases the wear resistance and impact resistance .The gate is of low noise, long service time.
 It automatically cancels the person's permission if the one can't pass within the specified time.
 It has anti intrusion facility with sound, light and alarm function.
Different types of Turnstiles:
Full Height Turnstile:
It is more secure than a tripod turnstile as it can't be crawled under or jumped over. It is also integrated with the central access control systems to provide better security.
Tripod Turnstile:
Also known as waist-high turnstiles. These types are mainly found in stadiums, transit stations, high-end office entrance, etc.
Swing Turnstile Gate Mechanism:
It is made from stainless steel or toughened glass of high quality. The barrier swing open after getting an authenticated entry.
Optical Barrier Turnstiles
There are optical sensors like infrared beams to detect and prevent intrusion.
Sliding Barrier Turnstiles
These are having flaps that slide backward to create entry space after detecting authorized entry. 
Better Security:
It provides better control over the entry traffic by detecting and preventing intrusion.
The turnstiles can limit the volume and direction of entry at any entry point. Tailgating, loitering and forced passage can also be prevented using it. Here any intrusion will can an alarm.
Access Control Integration:
It can also be integrated with central access control system. It helps the whole system to get the live data used from the user to track inflow visitors to identify potential security threats.
Operational Flexibility:
It smoothens the access control operations by streamlining the traffic inflow. It consists of a wide array of credential readers for authorize entry, such as barcodes, magnetic stripe, RFID/NFC or biometrics. Specific modes can be scheduled at certain times of the day to meet certain operational requirements.
Application:
Defense facility

Law enforcement area

Business establishment