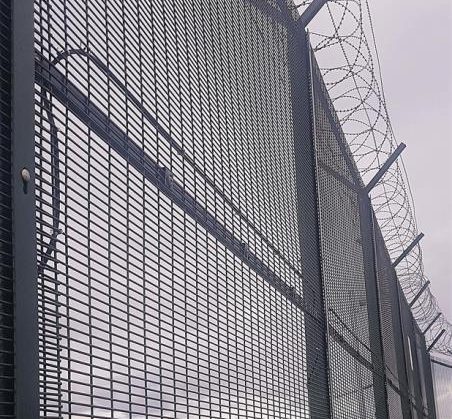 The RaySense family of Fiber Optic Perimeter Fence Intrusion Detection Systems include DAS and DVS sensors.
Up to 100km/62miles per processing unit in loop configuration.
Sensing standard single mode fiber
Distributed Acoustic Sensing (DAS) Technology
Up to 50km/31miles per processing unit in straight line configuration.
Within 3-20m/10-60ft resolution over the entire perimeter.
Signature based detection.
Can be used on the fence and underground with same cable and controller.
No electronics or power required in the field.
IP based Remote control and monitoring – Software based zones.
Perimeter Intrusion Detection Systems are systems used in an external environment to detect the presence of an intruder attempting to breach a perimeter. With the one of the longest fiber optic monitoring capabilities in the market the RaySense provides 100% perimeter coverage for long range applications with no gaps between sensors, the cable is the sensor.
The RaySense System uses typical single mode fiber optic cable as a powerful vibration sensor. RBtec uses different technologies such as Distributed Acoustic Sensing (DAS) Technology and Distributed Vibration Sensing (DVS) Technology for different applications on how to monitor a fiber optic. The fiber optic cable becomes extremely sensitive to pressure and motion, capable of detecting minutes vibrations transmitted through the fence, soil or the surface. The RaySense System can monitor the vibration signals along the length of the fiber optic cable and are able location of an intrusion event and classify the specific signatures based on the detection algorithm.
The RaySense System Alarm Process Unit (APU) monitors the optical signal and using sophisticated algorithms; it is able to distinguish between breach, cut climb, walk, vehicle, and non-threatening nuisances. The RaySense System preforms automated optical calibration on power-up and during operation. This simplifies setup and the system performance will not diminish with time; the APU only minimal to no maintenance.
The RBtec Pin Point Intrusion Detection System is the most cost-effective, high-performance solution for protection of long perimeters and other infrastructure.
Deploying RaySense fiber optic intrusion detection system is ideal for reliable perimeter security of 5-100km/3-62miles through a single fiber-optic cable, detecting and locating within 3-20m/10-60ft over the entire perimeter. Networking additional controllers provide unlimited reach. Seven different levels of actual physical sensitivity, through the cable configuration, optimize the system performance for different infrastructure requirements such as: chain link fence, buried cable, gates, or wrought iron barriers.
Return on your investment
Utilizing fiber-optic cable, the system is the most economically competitive technology currently available for long distances. Requiring only a single alarm processing unit (APU) to cover up to 100km/62 miles if the cable starts and ends at the same point (loop) or 50 km/31 Miles in straight line combined with a rugged fiber-optic sensing cable, results in the most cost-effective fence detection solution for large perimeters.
Applications:
Transportation
Rail, Aviation and Ports
Energy and Utilities
Petroleum and Chemical
Military and Government
Country Borders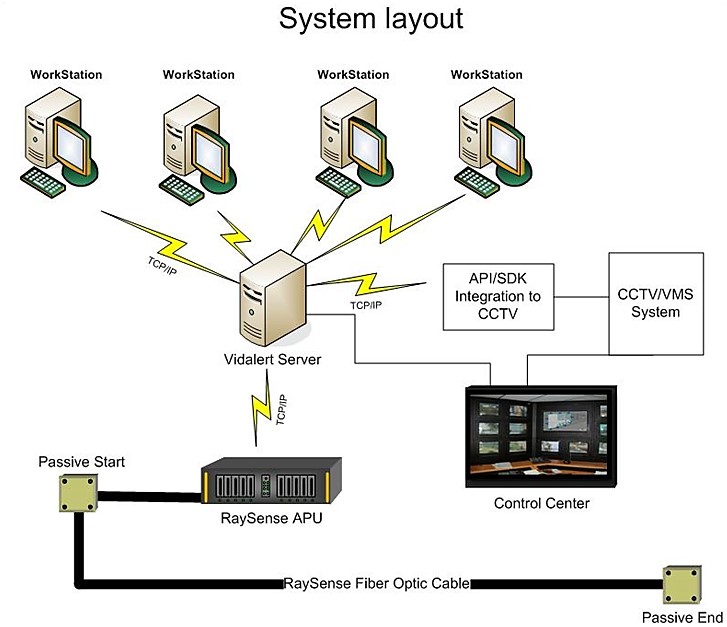 Advantages of RaySense Fiber Optic Fence Detection System
• 3RU, 19-inch, rack-mount, processing unit (APU) reduces costs and electronics footprint in control room.
• Hardware based on dedicated programmable microprocessor and DSP chips ensures fast stable performance.
• The longest range precision monitoring capability with a single APU covering perimeters up to 100 km, reducing infrastructure requirements; networking controllers provide unlimited reach.
• Tightly integrates with the RBtec Vidalert Command and Control System enabling remote and centralized monitoring and control of the entire system.
• Capable of pinpointing intrusion over the entire length of the perimeter to within 3-20m/10-60ft with unlimited zones in different sizes.
• Immune to electromagnetic, lightning and radio frequency interference (EMI/RFI) ensures reliable operation in challenging environments
• No power/communications requirements in the field reduce infrastructure costs
• TCP/IP interface allows non-proprietary communications using readily available network equipment
• Low energy consumption – produces nominal heat, eliminating need for air conditioned racks
• Field upgradeable firmware ensures equipment software can be brought up to the latest version on the spot, even over TCP/IP